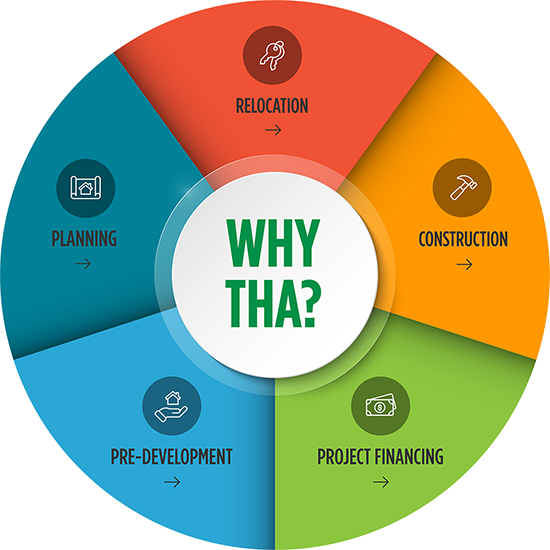 RELOCATION
Since 2019, THA has facilitated the successful Uniform Relocation Act-compliant relocation of over 500 households, highlighted by the offsite relocation efforts that occurred at Riverview Park and Brightwaters Apartments, as well as the onsite relocation efforts at Sandy Park and Apache Manor.
PLANNING
Highlighted by the Envision Comanche Master Plan, THA has extensive experience in site selection and analysis, feasibility assessments and community-level planning efforts.
PRE-DEVELOPMENT
THA has procured and maintains a pool of qualified consultants to address all aspects of the predevelopment process, including architectural and engineering designs, market studies, appraisals, feasibility studies, physical needs assessments, surveying and title, zoning and entitlements. Our predevelopment team has successfully ushered over 10 projects since 2019 from origination through underwriting.
PROJECT FINANCING
THA maintains a team of underwriting staff that has underwritten and closed on a variety financing tools, including 4% and 9% Low-Income Tax Credit (LIHTC) funding, tax exempt bonds, FHA-insured loans (221(d)4 and 223(f)), seller financing, balance sheet loans and construction loans. Since 2019, THA has closed on over $150M in project financing
CONSTRUCTION
THA has completed both substantial renovations and new construction on over 300 units since 2020, with another 800 units under construction or set to initiate construction in the coming year. THA maintains a high capacity staff with the ability to administer jobs of all sizes, ranging from $1M or less repairs to $60M+ complex renovation and new construction projects.